04.08.07
Ce blog a été créer par 3 scrappeuses: l'une belge, l'autre anglaise et l'autre canadienne... Nous voulons par ce blog faire connaitre à nos pays respectifs les différentes tendances de scrap à travers le monde
This blog was created by 3 scrap'girls: the first is belgian, the second english and the third canadian. We want by this blog to make known with our respective countries the various scrap tendencies throughout the world
Ce blog risque de subir encore quelques transformations, nous n'en sommes qu'au début donc merci pour votre patience...
There may be some modifications on the blog, we are in the begin of it so thank for your patience...
Qui sommes nous?
Who are we?
1 Nessa: j'ai 27 ans, maman de 2 ptis garcons, je scrappe depuis le début de ma deuxième grossesse soit en 2006. Je vis en belgique avec mon mari et mes 2 garcons. Le scrap est pour moi une réelle passion, un échapatoire, une façon de m'exprimer...... Vous me trouverez ici : http://www.scrapbook2nessa.canalblog.com/
1 Nessa I am 27 years old, mom of 2 boys , I scrappe since the beginning of my second pregnancy in 2006. I live in Belgium with my husband and my 2 boys. Scrap is for me a real passion, a way to excape, a way of expressing me ...... You'll find me here: http://www.scrapbook2nessa.canalblog.com/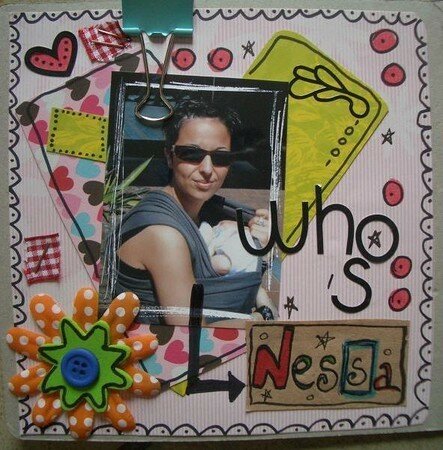 2 Steph: Hello! Je m'appelle steph et je vis en Angeleterre, près de Londres. J'étudie l'anglais à Cambridge, et je rentre dans ma dernière année d'étude.Mes auteurs favoris sont Jane Austen et Charles Dickens. J'aime la filmographie, la musique, les chats et chiens(j'en ai un de chaque).
Je ne scrappe pas depuis si longtemps! Je pense que j'étais n erveuse la première fois que j'ai commencé le scrap mais maintenant ca y est!!!!
J'adore les papiers, chipboards, couleurs tendres et lumineuses sur mes pages.
J'adore scrapper différentes tailles de pages et aussi des mini albums.
Les journalings m'effraient un peu et je n'aime pas du tout mon écriture mais j'y travaille car je pense que c'est vraiment important pour pouvoir retranscrir ma vie sur des pages de scrap.

2 Steph: Hello! I'm Steph and I live in Surrey in England (near London). I'm currently studying English at Cambridge, and am just about to go into my final year of my degree. My favourite authors are Jane Austen and Charles Dickens, and love films, music, and cats and dogs (I have one each). I haven't been scrapbooking for very long, although I have to confess I've been a lurker for a little while! I think I was nervous at first to start putting things together, but now I have, I'm starting to find my groove! I love patterned paper, chipboard, hearts and bright colours on layouts. I love to scrap all different size layouts and mini books. Journaling scares me a little bit, as I don't really like the way my handwriting looks, but I'm learning to love it as I think it's so important to document my life on my pages.

3. Little_lulu: salut! mon nom est laurie et je scrappe depuis +/- 8 ou 9 ans. J'ai toujours apprécié les choses créatives. Le scrapbooking est pour moi une thérapie...C'est un exutoire créatif. Je scrappe dans tous les formats et j'essaie de tout!!!Je suis mariée et j'ai 2 petits bouts que j'adore et qui sont mes sujets principaux en scrap.Je vis dans le nord du Canada et j'adore cet endroit. Endroit paisible et très beau. J'espère rencontrer beaucoup de personne de tous les coins du monde
3. Little_lulu : Hi! My name is Laurie and I have been scrapping for about 8 or 9 years. I have always enjoyed creative endeavours and have kept scrapbooks of some sort for my whole life. Scrapbooking for me is like my therapy...it is a creative release and time by myself. I scrap in all formats and I will pretty much try anything!!!! I am married and have two kiddies who I adore and are definitely my favourite scrap subjects. I live in Northern Canada and I love it here. Very peaceful and beautiful and not at all barren as some believe. Looking forward to getting to meet lots of people from all over the world.
03.08.07
under construction
en construction